Learning resources| Five Chinese kids' books you can't miss!
Reading is an important skill that needs to be practiced when learning Chinese. In order to make learning pleasurable for children, it is important to select books that will interest them and suit their reading level. Below are our five picks for beginner Mandarin Chinese books that children will love!
1.
I Like Pickles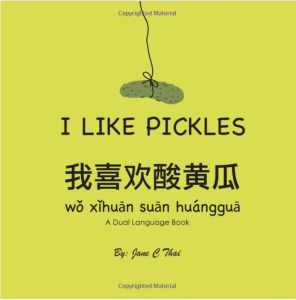 The protagonist is Bobby, who really likes pickles. Everything he eats, drinks, plays and does has something to do with pickles. This short fun story teaches some common Chinese phrases and sentences and uses repetition to make the reading more approachable. However, the addition of pickles to some unusual scenarios will definitely amuse and surprise children. With adorable illustrations and pinyin, kids will enjoy practicing their Mandarin reading skills.
2.Mina's Ups and Downs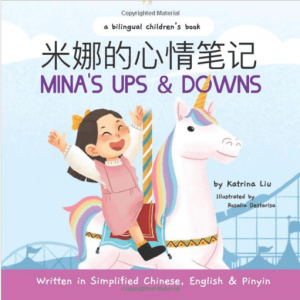 This adorable book is part of a series of books, based around the character (and the author's daughter) Mina. Each book has a vocabulary focus and a lovely little story with vivid illustrations. This book focuses on emotion words, and they are highlighted for easy recognition. The words are written in English,  Chinese, and Pinyin. The book also comes with a free audio reading in Mandarin to learn the correct pronunciation. The book is very engaging as well as a great educational tool for young learners.
3. Bao Bao Learns Chinese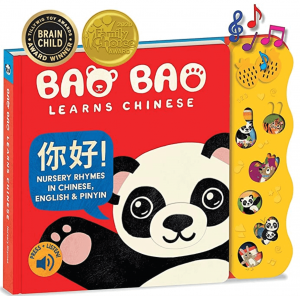 This is a bilingual music book designed for little kids. Research shows that songs are the best way for babies to learn languages. As an interactive Chinese children's music book, kids can look, listen and sing along with Bao Bao, the panda, to 6 classic nursery rhymes, including Two Tigers (两只老虎) and Twinkle Twinkle Little Star (一闪一闪小星星). Each song is sung twice, so you can follow the PinYin with your children and learn Mandarin characters together.
4.Twelve Lucky Animals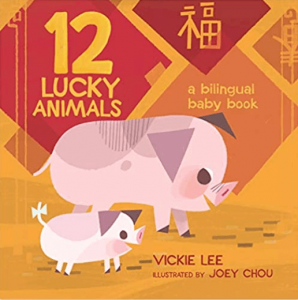 Learning Chinese means people not only need to know characters but also Chinese culture. One of the essential parts of Chinese culture is the Chinese Zodiac. The adventure-loving dragon, the carefree horse, and the artistic goat are just three of the 12 lucky animals found in the Chinese zodiac. All 12 of the zodiac animals are rendered here in vivid kid-friendly illustrations. The wheel on the back cover can help little readers discover which one is their lucky animal and also how to pronounce its name in Chinese and English.
5. My First Mandarin Words with Gordon & Li Li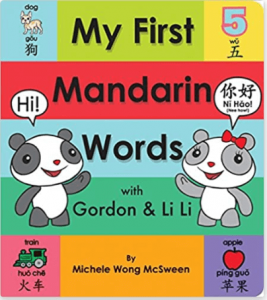 This book was written by Michele Wong McSween, who hopes to introduce her three sons to Mandarin Chinese and give them a deeper appreciation for their culture and heritage.
The main characters, Gordon and Li Li are cousins. Li Li is from Beijing and speaksMandarin, and Gordon lives in Brooklyn and speaks English. To communicate with each other, the cousins must share their languages. Children and caregivers can read along with the characters as they learn basic words, characters, and correct pronunciation.
With this book, kids can not only learn some Mandarin character and pinyin, but also about festive traditions. The book is a delightful way to immerse your child in Chinese culture.
Reading books aloud with your children can help teach language, culture, and also build a special bond with them. The kids' books above are just tips of the reading iceberg. If you'd like access to more Mandarin learning resources, including colorful flashcards and songs, they are accessible if you register on Lingo Bus.