A sea of people: What it's like taking the Beijing subway?!
What do people talk about when they talk about Beijing? Well, there are plenty of topics. As a city with a 800 plus years of history, and as the Chinese capital city since 1421 BC, there are countless things to explore, from the Forbidden City to street snacks, to the great wall and even folk crafts… You name it.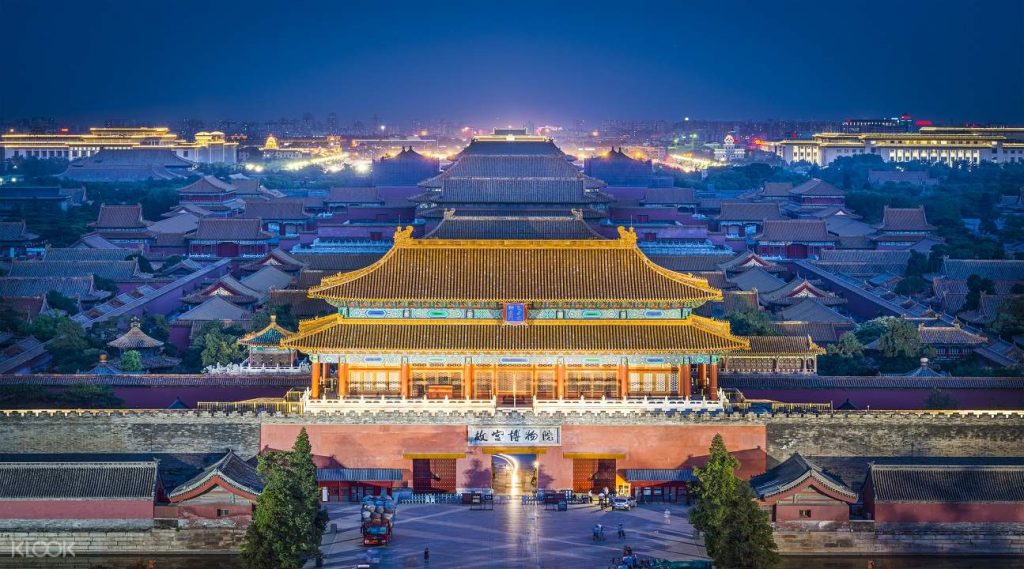 But its rich historical heritage sometimes leads to people ignoring that fact that Beijing is also a super metropolitan city, with a population of more than 30 million!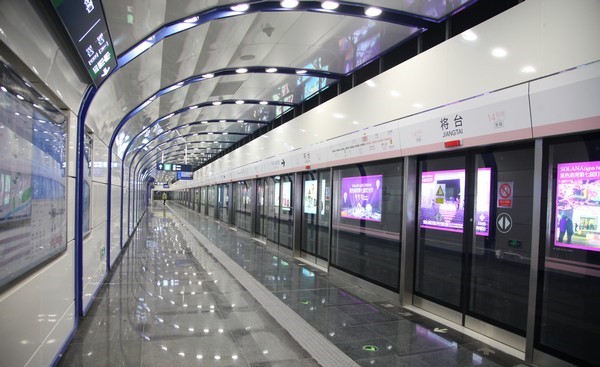 Living in the city, there are facilities you need to use every day. They slowly become symbols attached to the city, one example is the subway. If you decide to visit Beijing, besides a credit card and some basic daily Mandarin Chinese expressions, the next most important thing you will need every day is the subway.
Read more>> Chinese Negotiation Tactics
If you search 'Beijing subway' on Google, in addition to "how to take it", you will surprisingly find that people often asked questions like:
"How crowded is it in Beijing's Subway?"
"Why is it so crowded in Beijing's subway?"
Indeed, for Beijingers and foreigners living in the city, taking the Subway is always a love-and-hate relationship: It is so convenient that it can take you to anywhere you want to go faster than most other forms of transportation. However, it can be incredibly crowded. People joke that when you are in the subway during the rush hour in Beijing, you don't need to walk on your feet, people around you will move your forward! Of course, this is a little exaggerated. Yet…it's quite true. Here are two pictures to show you what it might feel like: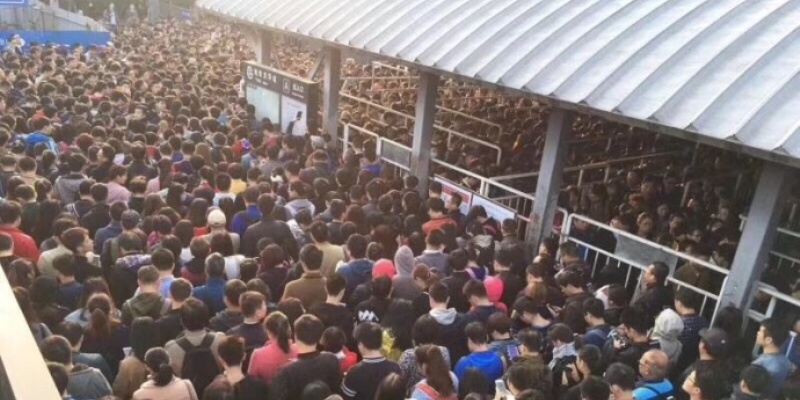 By 2017, the Beijing Subway system had 22 lines with 370 Stations in total.
The total route length is 377.9 miles (608.2 km). This makes it the second longest subway system in the world, only after Shanghai Metro. Here is an overview map of it: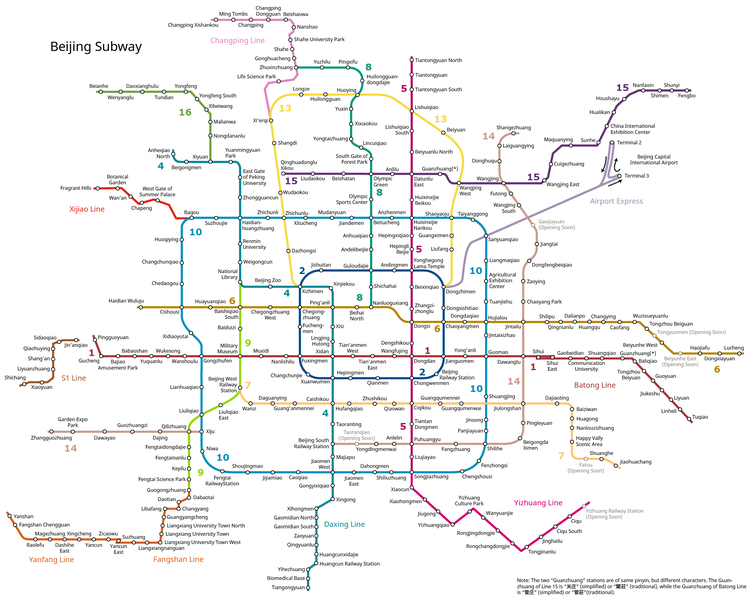 But just like the population in Beijing, the growth of the subway is never-ending. New lines are still under construction: by the year of 2021, the total route length will have almost doubled and be close to 621 miles. This explains why so many people take the subway on a daily basis, as you can always find a subway very easily. Unlike the subway system of New York and London, where delays and maintenances fairly common, Beijing subway is pretty punctual and you almost never need to worry about unexpected delays and change of schedules.
Of course, you have to make sure to take the right direction. And you need to prepare for the crowds, both physically and psychologically.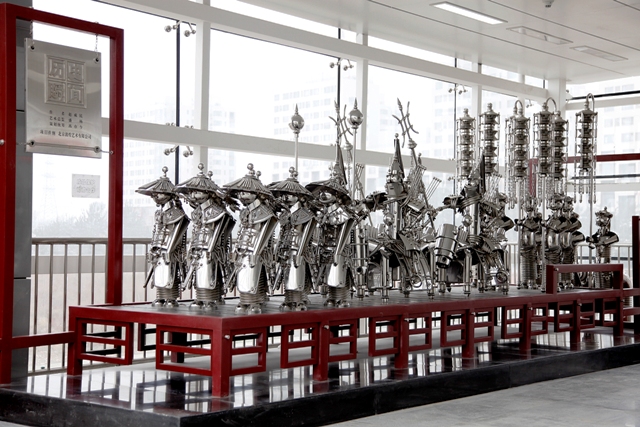 In 2017, the daily ridership of this system was 10.35 million! No wonder the global newspaper China Daily once listed the Top 10 crowded subway stations in Beijing for visitors to avoid!
Although it looks a little scary during the rush hours, the Beijing Subway has long been a part of the urban life of Beijing. And it has also been a cultural symbol of the city.
The Memory of the City
Beijing Subway began to operate in 1969. It is the first metro system in mainland China. Before 2002, there was only 2 lines, namely Line No.1 and Line No.2 as follow: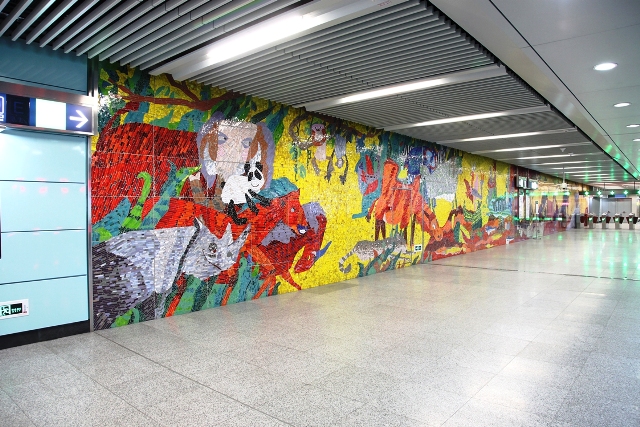 As you can see, Line 1 goes across the city East to West along the main street of the city, the Chang'An Street whereas line No.2 is a loop line roughly circling around the second ring road of the city. Although compared to metropolitan cities like London and New York, Beijing Subway's history is not very long, it has had a great influence not just to local Beijingers but also all the Chinese citizens. If we take a step back to the 70s and 80s, it would be a great honor to take the subway in Beijing for visitors from other parts of the country.
Since 2002, with the accelerating development of the municipal construction, the subway system also began to expand at a fast rate. This article from the Huffington Post describes how it has been developed. On average, every year, a new line will be put into use.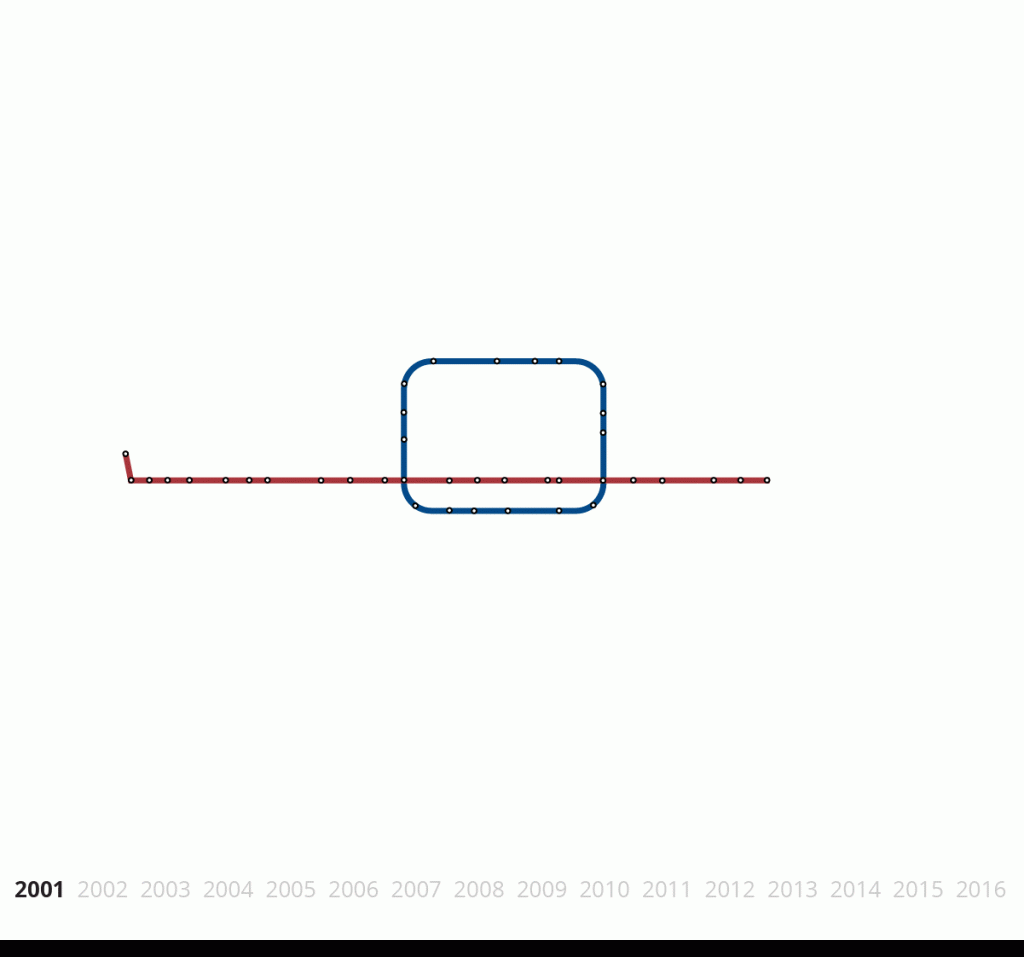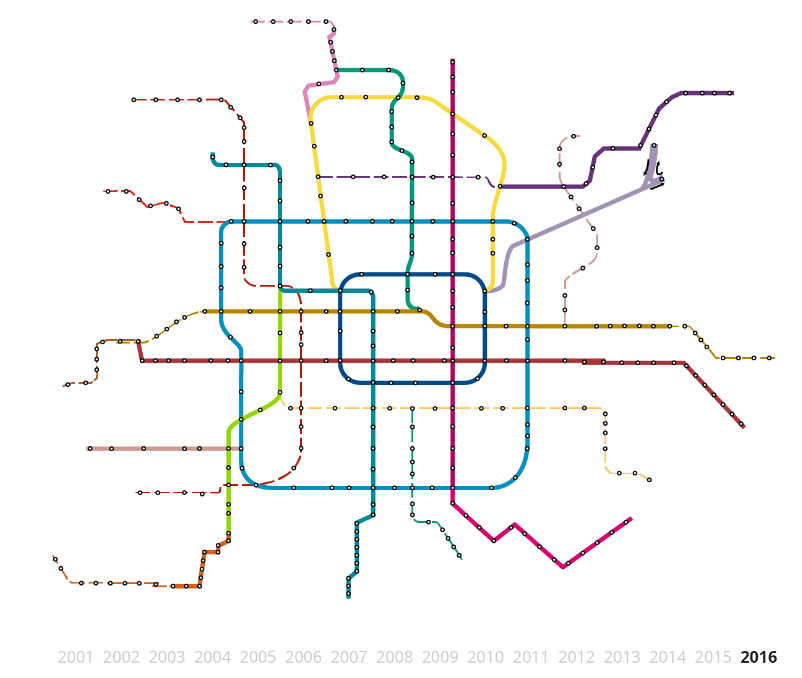 A Practical guide: How to take the subway to where you need to go in Beijing?
Here is a practical guide to new visitors coming to the city:
Check the map and find out where you are and where you are going. (This can be done on Google Maps although if your skills are up to it we suggest using Baidu maps as google maps may have some accessibility problems for users in China!)
Get to the closest subway station.
Buy a ticket on the ticket machines or a 'Travel Card'. (There is always English service available, the Beijing travel card can be used in buses and the subway, it can be bought electronically on your phone or at specific subway stations)

Beijing Travel Card and Its app version

Go through security.
Swipe the card or your phone to pass the gate.
Read the directional map.
Get on the tube.
Watch out for the "stop announcement" that tells you when you are reaching your destination.
Insert your ticket or swipe your travel card to exit the station.
Next, here are the list of frequently-used words that can help you:
dìtiě
地铁
(Subway)
zhàn
站
(Stop, Station)
jìnzhàn
进站
(Entrance)
chūzhàn
出站
(Exit)
Jiāotōng kǎ
交通卡
(Travel Card)
shuākǎ
刷卡
(Swipe the Card)
mǎi'piào
买票
(Buy Ticket)
Xià yí zhàn
下一站
(Next Stop)
huànchéng
换乘
(Transfer)
rénshān rénhǎi
人山人海
(A sea of people)
Copyright Notice: Everyone is welcome to forward the articles in this blog as long as the links to these articles are also included.
---