Start Learning Chinese with Lingo Bus
First, a quiz about how many people are learning Chinese: What common ground does the daughter of the former US President's daughter, Malia Obama, Facebook's CEO, Mark Zuckerberg, and the current President Trump's granddaughter, Arabella Kushner share? The answer is they all learn Chinese! They are just a few examples of celebrities taking Chinese classes.  If you search the keyword "Chinese Language" in Google Trends, you will find how popular this topic has been on the internet. Mandarin Chinese class has been the choice for more and more parents when they consider E-learning for their kids. The graph below taken from google shows people's interest in the Chinese language during February to April 2018.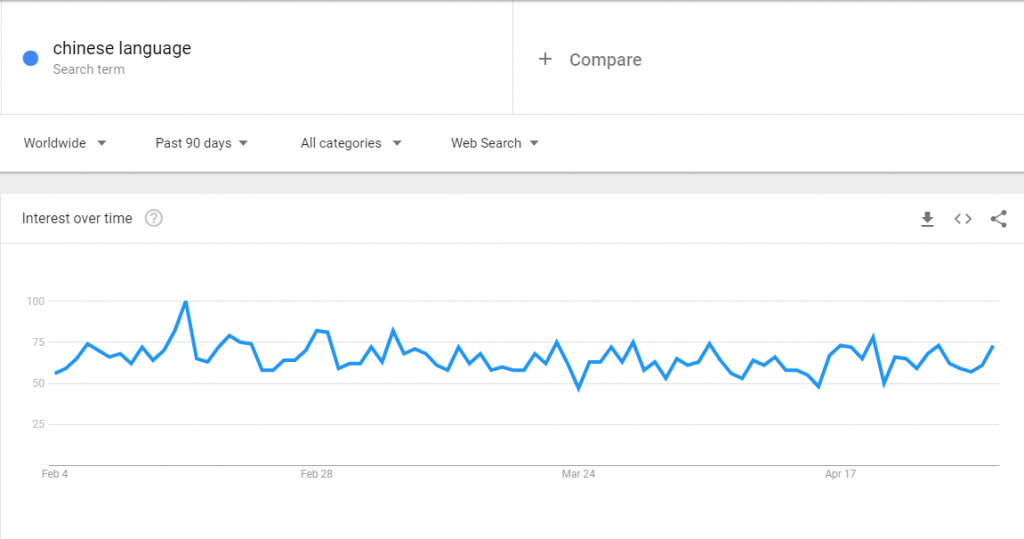 Why learning Chinese is getting more and more popular worldwide?
Here are some reasons: From an economic perspective, China is currently the second largest economy in the world with a strong momentum of continued growth. It is estimated that China's GDP will eventually surpass the US in the years to come. Along with its economic development, China has been playing an increasingly important role in international relations, technology, and scientific research. Furthermore, learning a language that is currently spoken by more than 10 billion people will definitely open a new window of opportunity to those who learn it. And this ancient tonal language can also help develop a bilateral relationship between the two hemispheres of the brain.
 Language immersion, which can be briefly understood as teaching a language by being surrounded in that language, has been proved as an effective way to learn a second language because it helps learners to use what they have learned in real communication scenarios. Immersive programs can also help students to understand the culture behind the language as learners are "thrown" into the sea of the target language while learning. They must know how to "swim" by themselves.
How Lingo Bus helps your children to learn Chinese?
As an online one-on-one immersive Chinese teaching platform, Lingo Bus is dedicated to helping children aged from 5-12 years old with their Chinese.
The structured curriculum offered by Lingo Bus is designed to meet the Standard for Language Learning and the 21st Century Skills for World Languages. All of the material that Lingo Bus uses is in accordance with the ACTFL Proficiency Guidelines and YCT (Youth Chinese Test).
Teachers are always the key element to education. All teachers at Lingo Bus have a minimum bachelor's, over one-year experience, plus the Mandarin secondary level A certificates (or higher)! Also, the training process never ends. Teachers are constantly being trained from the start of recruitment. After they start teaching, they will continue to receive training and other support from Lingo Bus.

Lingo Bus does not only teach Chinese but also helps a student improve comprehensive multidisciplinary skills. In this 100% immersive program, students can learn both language and communication skills. What's more, each phase of the curriculum is designed with interdisciplinary themes to promote students' curiosity for the Chinese language and promote cultural exploration, with the goal to develop and enhance their multiple areas of intelligence and learning styles. Studies have shown that students attending bilingual program tend to perform better than students that haven't attended such programs.
Worry about internet problems?
A stable, fast and highly-interactive online platform that enables learning to happen anytime and anywhere is another advantage of using Lingo Bus. With this platform, students can draw, type, and interact visually with their teachers. Lingo Bus has purchased traffic data on the trans-Pacific data cable to ensure our classes run smoothly. Parents and students will also enjoy great flexibility when learning with Lingo Bus because they can schedule class according to their own timetable!
Well, as the saying goes, to see is to believe. If you are looking for a Chinese class for your children, why not check the Lingo Bus' website for more information? It's always the right time to start your kids' Chinese language journey!